Wedding Stationery Printing in Glasgow
At Maureen Waugh Print, we understand that you want your wedding stationery to be unique. That's why we're dedicated to helping Glasgow's brides and grooms-to-be devise a wedding stationery design that reflects their romantic personality.
Our wedding stationery printing service in Glasgow will ensure that your wedding invitations are exactly what you want them to be – whether that's a sophisticated, classic design or an informal, contemporary one.
Simply contact us – by phone on 07793 055545 or online – to find out how we can design and create beautiful wedding stationery that you and your wedding guests will always remember.
Designing a wedding stationery collection
Wedding invitations form the central component of a wedding stationery collection for most couples. Our designers have experience in designing wedding invitations for couples in and around Glasgow, so we know that they have to be special and unique to your celebration. We'll help you decide on a design, a colour scheme, the lettering and other elements of your wedding invitations.
However, there's much more to wedding stationery than invitations. You may also need to think about your envelope design and colour, save-the-date notes, RSVP slips and thank you cards for after the wedding.
Through close communication with our experienced wedding stationery designers, you'll be able to establish which stationery items you need for your wedding. Just give us a call today to get the ball rolling on your wedding stationery ideas.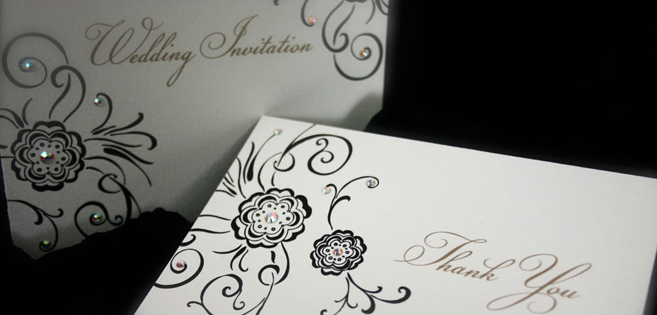 brochures | business cards | compliment slips | invitations | leaflets | letterheads | wedding stationary